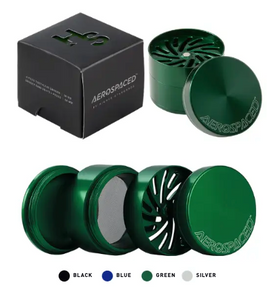 Aerospace Toothless Grinder
Introducing the Aerospace Toothless Grinder, the pinnacle of aerospace-grade craftsmanship and the epitome of luxury in the world of smoking accessories. Engineered with unparalleled precision, this high-quality grinder is designed to exceed even the most demanding standards.
At the heart of this extraordinary grinder are its unique toothless blades. Meticulously engineered to perfection, these sharp blades effortlessly slice through your material, transforming it into a fine powder consistency. The result? An impeccable end grind that is vape-friendly, ensuring you extract every last bit of goodness from your material.
But it doesn't stop there. The Aerospace Toothless Grinder goes beyond functionality and elevates your smoking experience to new heights. Its sleek and ergonomic design fits comfortably in your hand, allowing for effortless grinding with every twist. Crafted with the finest materials, this grinder exudes a sense of opulence that is sure to impress even the most discerning connoisseurs.
Not only does the Aerospace Toothless Grinder deliver exceptional performance, but it also boasts unparalleled durability. Built to withstand the test of time, this grinder will be your trusted companion for countless sessions to come. Whether you're a seasoned smoker or a newcomer to the world of vaping, this grinder is designed to enhance your enjoyment and ensure a seamless experience every time.
Upgrade your smoking ritual with the Aerospace Toothless Grinder and discover a new level of precision, efficiency, and luxury. Elevate your material to its fullest potential and indulge in a vaping experience like no other. Don't settle for anything less than perfection when it comes to your smoking accessories. Choose the Aerospace Toothless Grinder and unlock a world of possibilities.