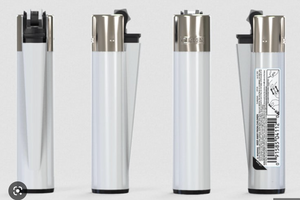 White Clipper Lighter
Clipper Lighter is a high-quality lighter that is perfect for all your smoking needs. Made by the well-known Clipper brand, this lighter is reliable, durable, and easy to use. Its sleek and stylish design features a crisp white exterior that looks great with any smoking accessory or outfit.
The Single Clipper Lighter is refillable, making it a more eco-friendly and cost-effective option than disposable lighters. Its adjustable flame allows you to customize the intensity of the flame for a perfect burn every time. The lighter's compact size makes it easy to carry with you wherever you go, whether you're at home, out with friends, or on the go.
In addition to its practical features, the White Single Clipper Lighter also comes with a removable flint housing that can be used as a poker or tamper tool. This added feature makes it a versatile accessory that can be used for more than just lighting your smoke.
Upgrade your smoking experience today with the White Single Clipper Lighter, and enjoy a reliable and stylish accessory that will last for many smoking sessions to come.