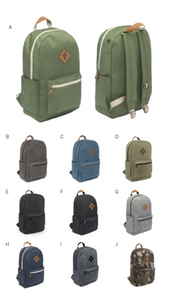 Escort Bag
Introducing the Escort, the ultimate companion for your next smoking session. This lockable and durable backpack is specifically designed to carry everything you might need, ensuring you're always prepared wherever you go.
With its spacious interior, the Escort offers ample storage for all your smoking essentials. It features a convenient laptop divider, allowing you to keep your devices organized and protected. No more worrying about jumbled cords or accidental scratches – the Escort keeps everything in place, providing peace of mind and added convenience.
But what sets the Escort apart is its ingenious design. Hidden within its sleek exterior lies a secret inner stash pocket, discreetly tucked away for your additional materials. This clever feature ensures that you have extra storage space without compromising the overall aesthetics of the bag.
Durability is at the forefront of the Escort's construction. The bag is equipped with double-sided pockets, adding an extra layer of strength and resilience. It's built to withstand the rigors of daily use, ensuring that your precious belongings remain secure and protected.
Not only is the Escort tough, but it's also water-resistant. Designed to keep your belongings safe even in unpredictable weather conditions, this backpack offers the peace of mind you need when venturing outdoors. Additionally, it features a built-in carbon filter system that effectively neutralizes odors. Say goodbye to any unwanted smells – the Escort's layered odor-absorbing charcoal and synthetic filter keeps your session discreet and enjoyable.
Step up your game with the Escort, the well-constructed backpack that combines functionality, durability, and odor-repelling features. Whether you're on a casual outing or a grand adventure, this backpack ensures that you're always prepared. Experience the convenience, protection, and style of the Escort and elevate your smoking experience to new heights.