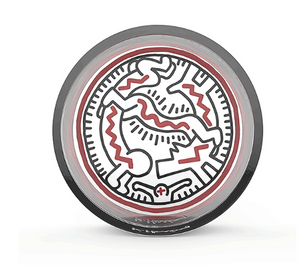 K.Haring Circle Catchall
The K.Haring Circle Catchall is a beautiful and functional piece of art that showcases Keith Haring's iconic imagery. Made from heat-resistant crystal glass, it is perfect for holding smoking accessories and small items. The steep walls provide ample space for storing your favorite smoking tools, and the bold outlines and contrasting colors of Haring's artwork are sure to catch your eye.
What's more, the Circle Catchall comes in a well-crafted box with thick walls and compressed foam inserts, ensuring that your catchall arrives in perfect condition. The packaging also features Haring's artwork and signature, making it a great collector's item or gift for any art lover or smoking enthusiast.
Overall, the K.Haring Circle Catchall is a stunning and practical piece of art that combines form and function in a way that only Keith Haring could achieve.
© Keith Haring Foundation.
Licensed by Artestar, New York
FEATURES
4" D x 1.4" H
6 mm Thick Crystal Glass
Iconic Keith Haring Artwork
Press-Molded Design
Laser-Engraved Logo
Heat-Resistant Construction
Hand Polished