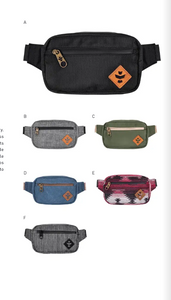 Revelry Companion Smell Proof Crossbody Bag Water Resistant with Adjustable Strap for Travel, Sport, Running - Carbon Filter System from Odor Protection, Canvas Exterior Men & Women (Crosshatch Grey)
Introducing the Revelry Crossbody Bag: A Premium, Smell-Proof Companion for Your Adventures

The Revelry Crossbody Bag is a high-quality, premium bag designed with advanced carbon filter technology to provide a smell-proof solution for your belongings. Whether you're traveling, attending a festival, or engaging in outdoor activities, this bag ensures that unwanted odors are kept at bay, giving you peace of mind and convenience.

Advanced Carbon Filter Technology:
This crossbody bag features a carbon filter system with three separate layers. The outer white layers are synthetic filters, while the middle layer consists of activated charcoal. Together, these layers create a powerful filtration system that effectively absorbs and neutralizes odors, keeping your items fresh and discreet. The filter system is protected by a durable material and lining, ensuring its longevity and effectiveness.

Durable and Functional Design:
The bag is made with an exterior of nylon or cotton canvas, which not only looks stylish but also provides durability and water resistance. The heavy-duty rubber backing adds an extra layer of protection and ensures that the carbon filter system remains hidden from view. With its adjustable buckle closure, the bag can be easily customized to fit your preference and can be worn across the body or around the waist, allowing for hands-free convenience during your activities.

Versatile and Practical:
The Revelry Crossbody Bag is designed to meet the needs of various situations. It is ideal for travel, festivals, parties, raves, running, hiking, and more. The spacious interior can accommodate essentials such as water bottles, iPhones, keys, wallets, and snacks, providing you with everything you need while on the go. It also makes for a thoughtful and practical gift for friends, travel partners, personal trainers, and sports enthusiasts.

Risk-Free Purchase:
We are confident in the quality and performance of our product. That's why we offer a 100% money-back guarantee to ensure your satisfaction. You can place your order with confidence, knowing that your shopping experience is protected.

Upgrade your adventures with the Revelry Crossbody Bag, and enjoy the benefits of a premium, smell-proof companion that combines style, functionality, and durability. Choose from our classic colors and experience worry-free travels and activities. Get your Revelry Crossbody Bag today and embark on your next adventure with confidence.